Difference between revisions of "Michel Caffarel"
Jump to navigation
Jump to search
Line 37:
Line 37:
 
 
 

<B>PUBLICATIONS</B>

 

<B>PUBLICATIONS</B>

 
+
 
+
 
+
 
+
 
 
 

<B>Reviews </B>

 

<B>Reviews </B>
---
Revision as of 15:48, 23 April 2013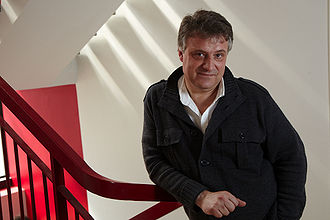 Directeur de Recherches au Centre National de la Recherche Scientifique (CNRS)
Lab. de Chimie et Physique Quantiques "(LCPQ)
Université Paul Sabatier " (UPS) and University of Toulouse (UT)
Phone: +33 5 61 55 60 46
Fax: +33 5 61 55 60 65
E-mail: caffarel@irsamc.ups-tlse.fr
Mail: CNRS-Lab. de Chimie et Physique Quantiques
IRSAMC Université Paul Sabatier, 118 route de Narbonne
31062 Toulouse Cedex (FRANCE)




RESEARCH INTERESTS
N-body quantum problem in physics and chemistry
TEACHING
Advanced numerical course: "Simulating Complex Systems of Physics" (20 hrs) M2R Physique de la Matière, Université de Toulouse
"Exploring nuclear configuration space" (6 hrs) M2I Physique et Chimie pour le Vivant et la Santé (PCVS)
SCIENTIFIC COMMUNITY INVOLVEMENT
Board member of the Labex NEXT
PUBLICATIONS
Directeur de Recherches, CNRS
Reviews
Methodology: General Aspects
Zero-Variance Zero-Bias principle and its Applications (Forces)
Trial wavefunctions
Electron Pair Localization Function
The lithium-thiophene interaction: a critical study using highly-correlated electronic structure approaches of quantum chemistry
M. Caffarel, A. Scemama, A. Ramirez-Solis
Theoretical Chemistry Accounts 126(3) 275, (2010).
Bond breaking and bond making in tetraoxygen: analysis of the O2(X3Sigma(g)-) + O2(X3Sigma(g)-) <==> O4 reaction using the electron pair localization function
A. Scemama, M. Caffarel, A. Ramírez-Solís
J. Phys. Chem. A 113(31) 9014–9021 (2009)
Electron pair localization function, a practical tool to visualize electron localization in molecules from quantum Monte Carlo data
A. Scemama, P. Chaquin, M. Caffarel
J. Chem. Phys., vol 121, pp. 1725-1735 (2004)
Maximum probability domains
QMC for vibrational levels
Implementation of large-scale QMC simulations
Perturbation Theory with QMC. Applications to interaction energies and polarizabilities
Perturbation Theory with SAPT
Second-order exchange effects in intermolecular interactions. The water dimer
O. Hess, M. Caffarel, C. Huiszoon, and P. Claverie, J. Chem. Phys. 92, 6049 (1990).
The water dimer. Comparison of results obtained by both ab initio supermolecule and SAPT methods. Derivation of simplified formulas
O. Hess, M. Caffarel, J. Langlet, J. Caillet, C. Huiszoon, and P. Claverie, in Modeling of Molecular Structures and Properties Studies in Physical and Theoretical Chemistry, Vol. 71, pp.323-335.
A Perturbational Study of some Hydrogen-Bonded Dimers
J. Langlet, J. Caillet, and M. Caffarel, J. Chem. Phys. vol. 103, 8043 (1995).
The fermion sign problem
Nodal properties of wavefunctions
Chemical applications
Theoretical condensed-matter physics (Hubbard and Heisenberg models)
Quantum aesthetics
L'esthétique quantique : un regard croisé Arts et Sciences
M. Martinez et M. Caffarel in Science, Fables and Chimera: Strange Encounters, edited by Laurence Roussillon- Constanty and Philippe Murillo, Cambridge, Cambridge Scholars Publishing, 2012. Actes du Colloque International "Science, fables et chimères: croisements" Toulouse,10-11 Juin 2011.
Other publications